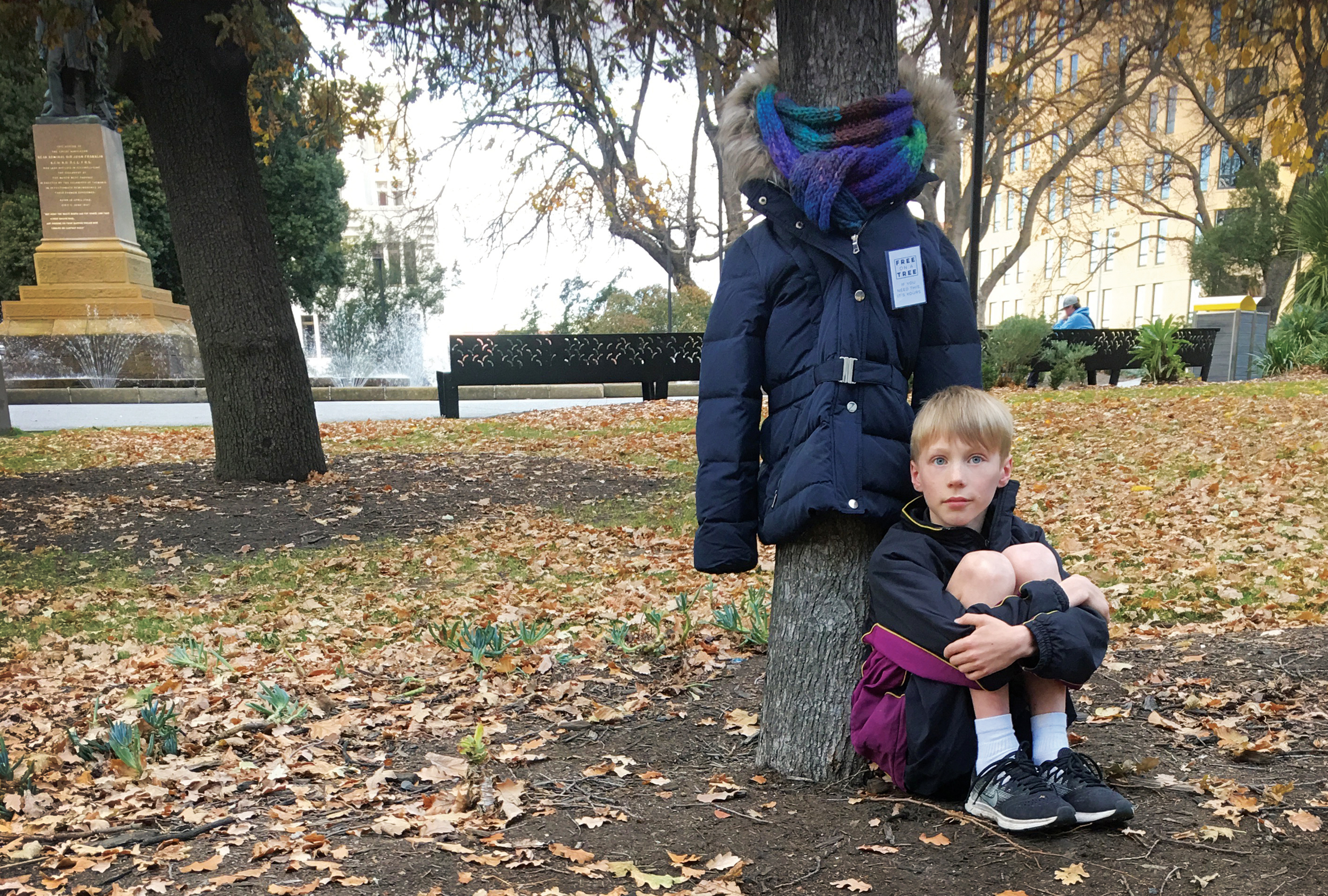 Free on a Tree
A project about giving
We are proud here at BYA Architects and Cathy McAuliffe Design to feature our son Oliver's project, Free on a Tree.
Free on a Tree started as part of a Homework Challenge set by Oliver's school, The Hutchins School. The program aims to replace traditional homework with a more self directed approach, where the students identify a project they would like to develop, with the support of their teachers and parents. They then manage their own efforts and report on the learnings.
We had been talking at home about the rental crisis, Hobart's floods, winds and people having to camp at the Showgrounds and in their cars. Discussions centred around ways we might be able to help people. From that, Free on a Tree was born.
The idea is that you take a donated coat, wrap it around the trunk of a tree, secure it using the coat's buttons or zip, and attach a sticker to it saying '(Free on a Tree) If you need this, it's yours'. Anyone in the community can then approach the tree in a quiet moment and take the coat to use. We felt this was a dignified way to offer help to those who may find it hard to ask for help. It's often hard to reach out for assistance, but especially when you may be experiencing hardship for one of the first times in your life, sudden job loss, loss of your house, change in personal circumstances. These everyday people we wanted to provide a warm coat to. While we feel it's very important to provide warm coats for people who are sleeping rough on our streets, it's also the 'hidden' homeless who we were most motivated in reaching.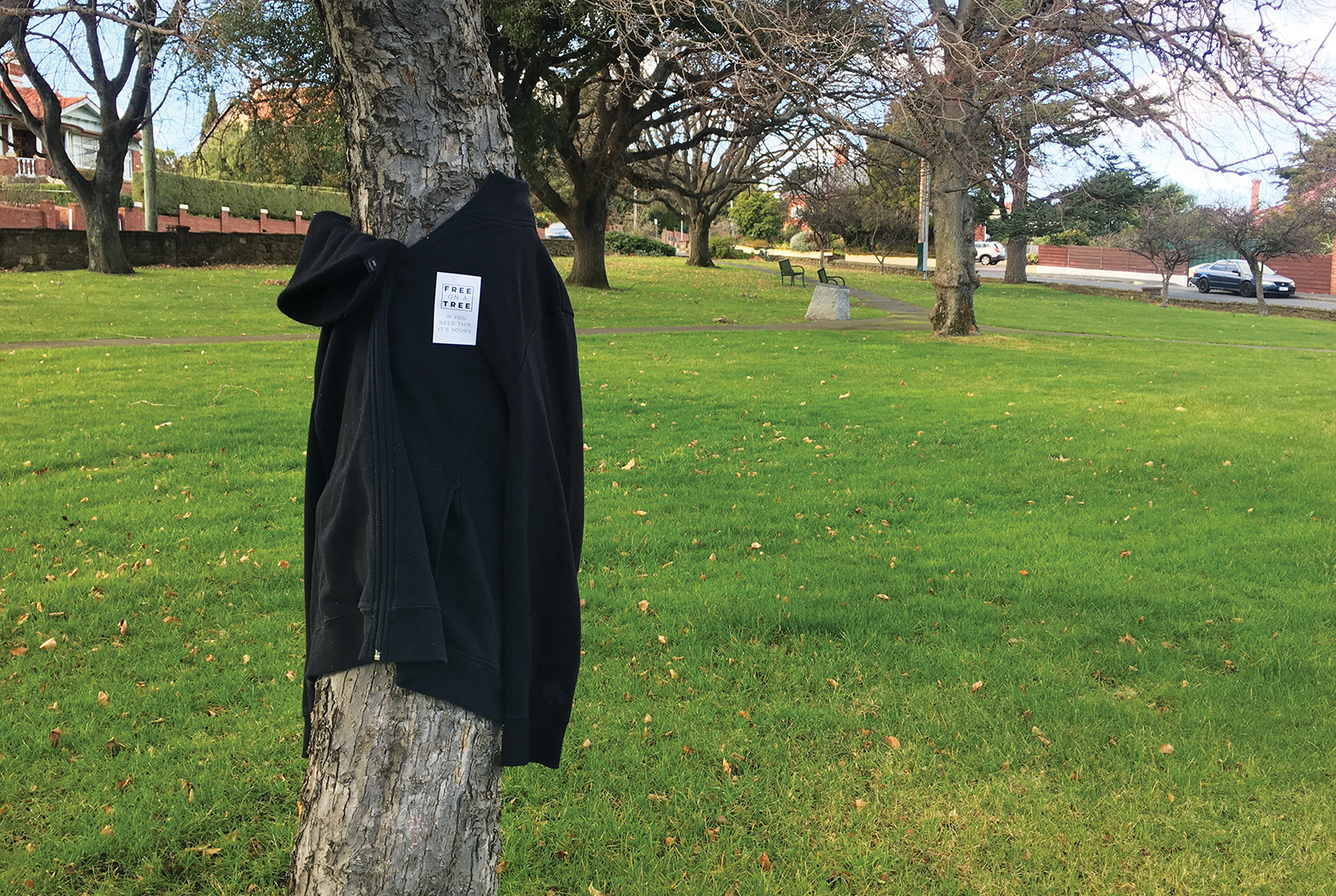 During June and July this year, we had well over 200 coats donated, from which Oliver with help from his parents hung over 100 coats directly onto trees. We also facilitated groups of eager volunteers to help distribute the coats onto trees. We hung garments in parks, on avenue trees, near beaches, near shower blocks and other public areas, near old aged facilities and near child care centres. Suburbs that r cruces donations of warm coats and waterproof jackets included Bridgewater, Herdsmans Cove, Risdon Vale, Warrane, Huonville, Kingston, City, Glenorchy, Chigwell and Claremont. Further afield, we had volunteers manning donation stations in Ross, Launceston, North East and North West Tasmania. We had a considerable amount of interest from people all over Australia, and were able to work
With locals in Geelong, Adelaide, Queensland, Western Australia and Melbourne. MyState bank have now come on board, offering all ten branches statewide as donation points and a team of around 400 staff to help hang coats onto trees locally. Excitingly, we are working now on an enabling level, helping others to set up donation points and get going. We do still receive coats too!
Now working with many schools around Australia and regularly send off 'starter packs' for students to set up hotspots within their school. These packs have Free on a Tree posters, stickers and instructional info to ensure the coats are getting to the right people in the best shape they can. Many schools are seeing Oliver's efforts through watching BTN (Behind The News), you can watch his video here.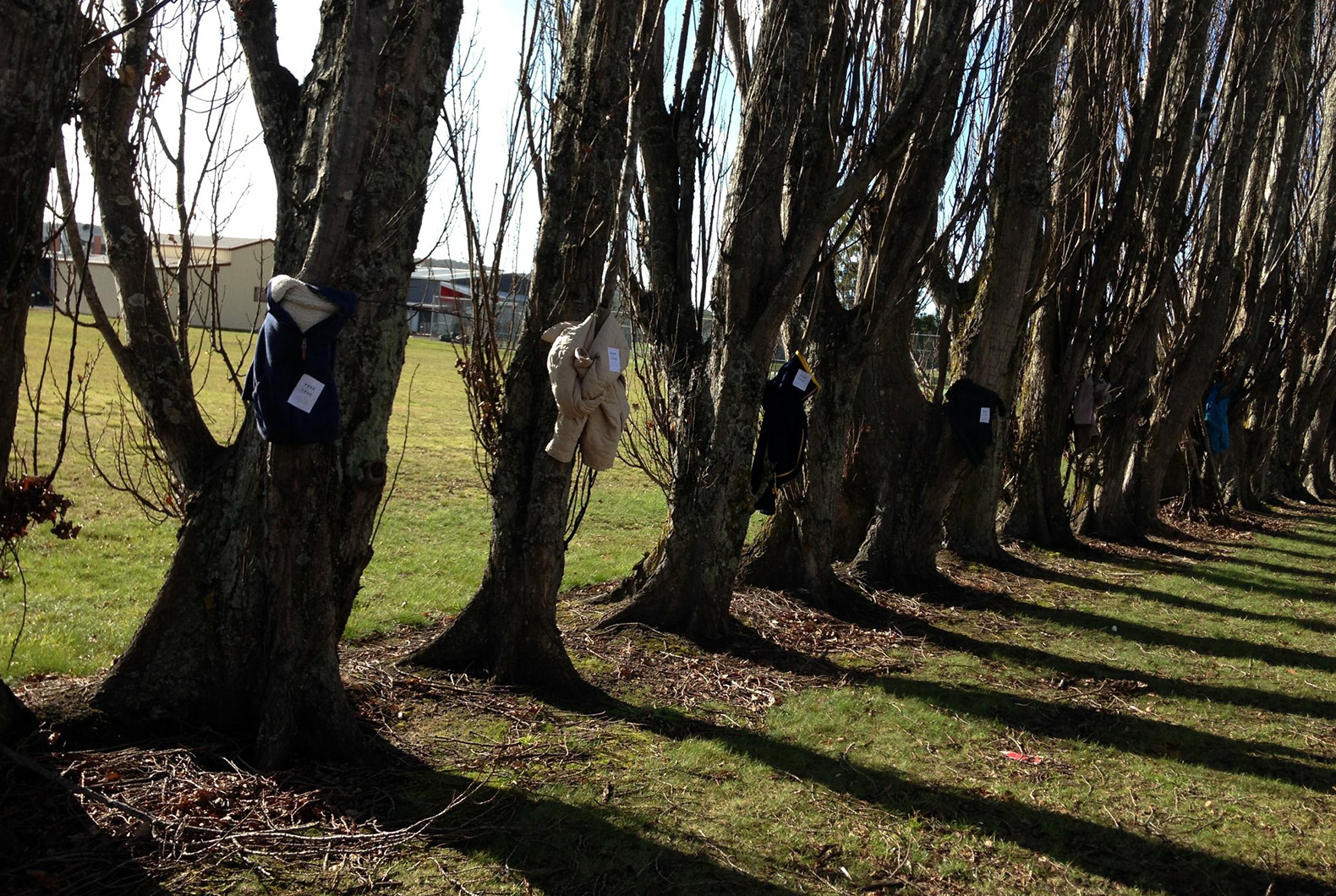 The entire campaign has been created and run with no money exchanging hands. We have received valuable printing donations from BYA Architects and MyState Bank, and around 3500 stickers donated from The Works Printing Group in Moonah. All the coats have been donated for free, and volunteers and simply taken it on to hang some coats.
For a while, the campaign took over our lives with local, national and international publicity received about Oliver's efforts. He was filmed in person, over the phone and online, interviewed in television stations and crossed live to tv around Australia. He also got profiled in radio stations, interviewed for a published book on Brave Boys (due to be released in April 2019, PanMacmillan), and articles written and photographed for magazines and newspapers.
Oliver's media appearances included The Project, Studio 10, ABC News, WIN News, Sunrise and The Mercury. Online he was profiled by Disney company Babble.com, story corporation Me, You, Us, interviewed by website Mammamia, and even on the Hobart City Council's Hello Hobart page. A highlight for him was to work with BTN as a Rookie Reporter to put together a segment. He has learnt a lot about media and how to inform people and construct a narrative that supports his actions!
He has just recorded a half hour podcast about Free on a Tree and has been invited to be a guest at youth conferences Unplugged and Kids4Kids. Oliver is also a finalist in the Tasmanian Community Achievement Awards in the Mental, Social and Emotional Wellbeing Award category.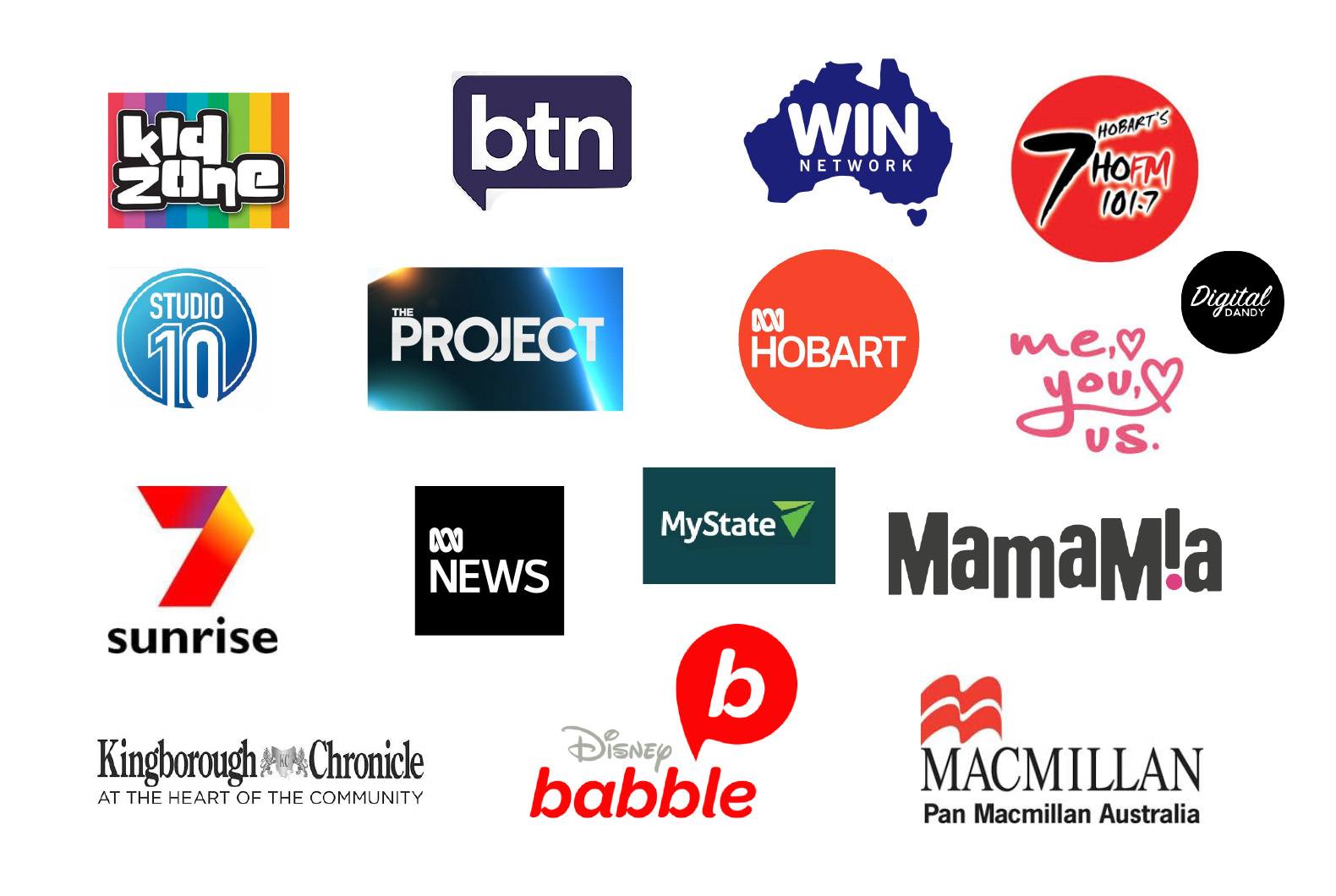 We feel that the Free on a Tree idea offers a private and dignified way to receive help. It's also an empowering way for community to offer help to others. It is a highly visible act and creates conversation and reminds people that they can simply go and do something small towards this huge problem. We have heard from volunteers that it has also lifted their winter blues, helping others. We think that seeing or taking a coat that has been hung lets people know that others care. Oliver has had many messages about the power of taking action as such a young person. The tipping point was achieved when we saw that people were hanging coats in suburbs by themselves, the campaign has now taken off. From the work of our hands to the hands of unknown community members, we have now seeped deeply into communities. People are doing 'coat drops' in their own communities that we would not have dreamed of reaching. The idea now runs itself.
Free on a Tree involves communities to hang warm coats and jackets onto trees for other people in need to access and take for free. Anyone in the community can then approach the tree in a quiet moment and take the coat to use. We felt this was a dignified way to offer help, and an empowering way that anyone can offer help to others, using only the spare clothes they have in their winter wardrobe! Find out more on our Facebook page...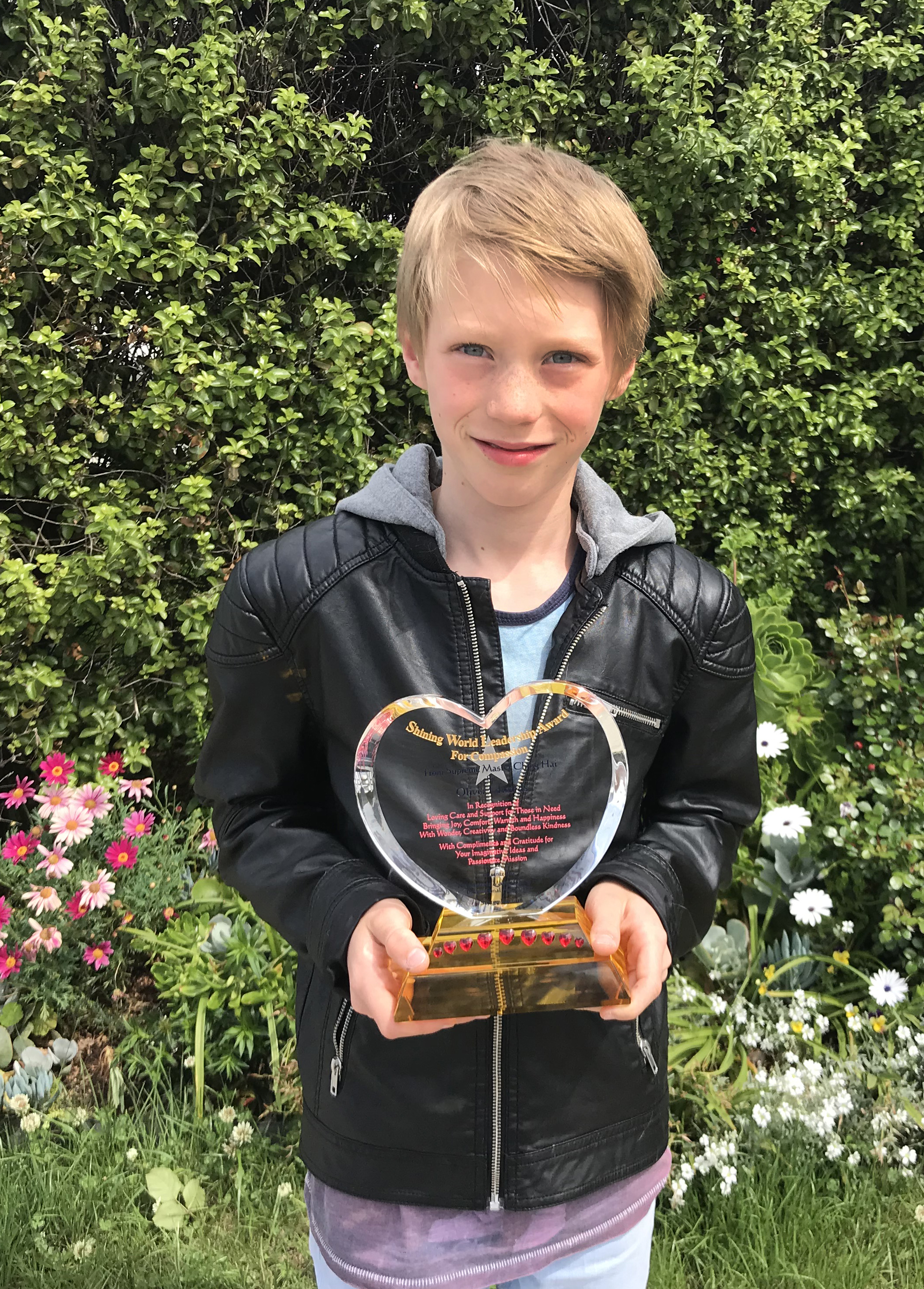 Oliver recently received a prize for his project from Supreme Master Ching Hai